Gone are the days of faces struggling to keep the company name honored while the NWO spray paints their letters on your back and throws up the wolf pack hand sign. Here are the days of wrestlers winning by sock puppet knockout and the return of cartoon character entertainers. True, there are many more choices in today's television era, but the quality of professional wrestling has dropped to a point similar to the days before Ted Turner purchased WCW, creating the Monday Night Wars. During the peak of 90′s wrestling viewership would reach 8 million people per show. Now Monday Night Raw struggles to hit 3 million while TNA Impact and Smackdown hover around the 1 million range. Can professional wrestling recover and once again provide the water cooler chat on Tuesdays built from an exciting storyline or has the audience permanently moved on?
The Problem: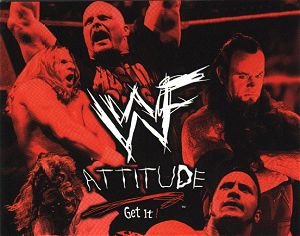 WWE has embraced the PG "attitude" in an attempt to grow a new audience, an audience of 9 year olds. If the show doesn't appeal to the 9 year old's parents does the channel change to USA? The ratings would say, "No." Characters like The Goon (an angry hockey player), Viscera (a tattooed big man that switched between face and heel), Koko B. Ware (a parrot loving bright tight performer) and Doink the Clown have been replaced by Antonio Cesaro (a disgruntled rugby player), Brodus Clay (a tattooed big man that switched between heel and face), Kofi Kingston (a former Jamaican bright tight performer) and Santino Marrella ( a clown with sock puppets). The days of Vince McMahon fondling Trish Stratus in a backstage vignette have been replace by curtain jerking Superstars dancing in unison to another Superstars entrance music.
TNA is filmed in the same studio where Mickey Mouse performs. They have a history of scooping up the trash that WWE leaves behind after their best days are behind them (Ken Shamrock, RVD, Matt and Jeff Hardy and more). An inability or lack of creativity has kept them from growing their own Superstars. Bad influences have effected their direction. Guys like Vince Russo, who no longer works for TNA and Eric Bischoff have failed to live up to high expectations.
The Resolution: