Well the first big game of the year is in the books and it did not disappoint, although maybe a little bit surprising. If you thought that March Madness was only in the NCAA basketball tourney, then you were mistaken.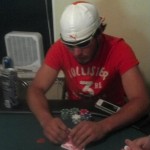 This year featured two play-in games. The first play-in game pitted two of the newest players to the AGP crew against each other, #10 seed Kyle (yet to have a nickname) Phillips and #8 seed, "Scab" Jerry Agren. The match see-sawed for a little while until Kyle got the upper hand after about 3 blinds. Jerry battled back, but once again found his call everything style to be his downfall when his pocket 5′s were outran by Kyle's A-J. Kyle would advance to the opening round.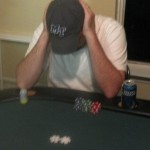 The next play-in game pitted long-time rivals #11 seed, Buzz Finger and #7 seed, Troy "K.o.P." Steffy. Last year these two were the top two seeds, but this year they would have to battle their way to advance. In what turned out to be the longest match of the night, no one seemed to be able to deliver the final blow. Back and forth they went for nearly two hours, exchanging chip leads as much as Kim Kardashian exchanges boyfriends. However, it was Troy who finally advanced when Buzz had no choice but to get it all-in with nothing. Troy's two pair of Kings and Queens eliminated Buzz and it was on to the opening round.